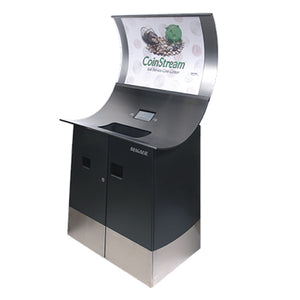 Magner 700 Series
Product Features
Automatic Coin Feed: Safely feeds coin, providing a more sanitary environment while reducing the chance of user injury.
Alloy Count Sensor Technology: Accurately counts all six U.S. denominations and automatically rejects foreign coins and slugs back to user.
Quiet: Noise-reducing materials throughout.
Optimum Speed: To meet noise reduction requirements and allow proper time to cross sell products and services.
Interactive Touch Screen Display: Enhances balancing, bag removal and reporting functionality — giving tellers instant access for bag status, end-of-day reports and transaction history.
Pull-out Shelf: Easy teller access to the entire counting and sorting mechanism.
Continuous Cleaning Mechanisms: Remove sand and other small objects during counting process; Automatic debris ejection system removes non-coin debris to trash receptacle.
Bag Management Section: Direct access to all bags through secure doors; coins feed directly into bags at floor level, minimizing lifting which allows for easy bag removal.
Specifications
Approximate Dimensions: 36" W x 221/2" D x 46" H (275/8" D x 677/8" H with optional sign)
Net Weight: 275 lbs
Power Source: External 24v power supply with low voltage for reduced power consumption
Operating Temperature: Limits +41° to 104° F (0° to +40° C)
Sound Level: 56 db
Coins Counted: U.S. – 1¢, 5¢, 10¢, 25¢, 50¢ and $1 (SBA) Canada – 1¢, 5¢, 10¢, 25¢, $1 and $2
Counting Speed: Up to 850 coins per minute
Coin Input: Automatic feed