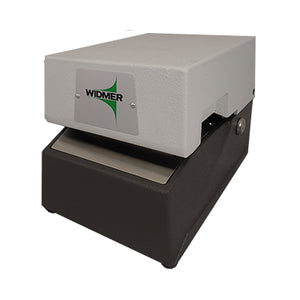 Widmer 776D
Product Description
The Widmer Model 776D Time, Date & Number Stamp is a dependable and versatile machine. The print trigger is activated when paper is inserted, so printing is done in one simple step!
Product Features
Printing numerous combinations of time, date, and numbering (as well as alpha wheels for coding) are enabled by the two printing heads that this product offers.
Signature and text may be printed in single or tri-color ink
The printing mechanism can be factory adjusted to print in a specific location.
Stamping force can be electronically adjusted to penetrate carbonized forms and pressure sensitive carbon-less forms.
Our open throat design allows you to insert and emboss on any size documents.
High quality cast iron body insures reliability and a long life.
OPTIONS INCLUDE:
Electric security lock
Fixed or adjustable guide plate
Military or conventional date and time.
Specifications
Height: 7 in. (18 cm)  x Width: 7 1/4 in. (18.4 cm)  x Depth: 10 in. (25 cm)
Weight: 31 lbs. (14.1 kg) , shipping weight 34 lbs. (15.42 kg)
Two-tone light and dark gray finish.
115V 60Hz (Optional 220V 50Hz).
Inscriptions may be above, or below the time, date and number line.