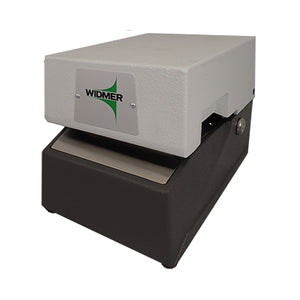 Widmer 776TV
Product Description
The Widmer Model 776TV Ink Seal creates a printed seal into a document and prints a combination of signature, title, date and additional text—all in one easy step! Signature and text may be printed in single or tri-colored ink. The print/emboss trigger is paper activated—no buttons to push or levers to pull.  Iron cast upper and lower casing insures stability and long life.
Specifications
Height: 7 in. (18 cm) x Width: 7 1/4 in. (18.4 cm) x Depth: 10 in. (25 cm)
Weight: 31 lbs. (14.1 kg) , shipping weight 34 lbs. (15.42 kg)
Two-tone light and dark gray finish.
115V 60Hz (Optional 220V 50Hz).
Inscriptions may be above, or below the time, date and number line.