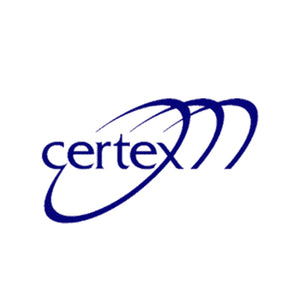 Certichex
Certichex Basic
Our new, low-cost alternative for your secure check writing needs
Solutions for Small Business
Low start-up costs
Resides on your PC as a printer controller
Easy to use
Easy to install
---
Features Include:
Print complete checks from blank safety paper, including MICR & logos
Interfaces with most accounting systems and programs
Print signatures with password and amount control
Encrypted signatures (limited to three)
Can be configured for most MICR laser printers
Compatible with the latest Windows Operating Systems (XP, Vista, 7), including 64-bit systems
Supports multiple companies and accounts Generates audit reports
Certichex Premier
Using the most advanced MICR laser technology, Certichex Premier Light integrates into your current accounting software system. Certex supports onsite/remote installation and training the service you expect from a trusted industry leader. As the checks are printed, the bank details, currency symbol, logos and signatures are all added at the same time, along with a remittance advisement letter. The software can run across a wide area network for multi-site printing, or operate in a stand-alone, one-office environment.
All signatures are encrypted and controlled using audit reports and release technology, like (fingerprint) controls, passwords, swipe cards or remote email authorization. These security applications will be applied in line with your bank mandate signing requirements to ensure all checks have the appropriate signatures before being issued.
---
Features Include:
Electronic document delivery module built in, to automatically email the remittance section of the check, reducing paper use, time, postage, and eliminating the need to collate multiple pages.
Latest 64-bit technology
Certichex Premier is compatible with Windows 7.0 and XML format
Annual maintenance and upgrades
Remote authorization of payments using biometric controls from any worldwide location
Send payments electronically with the new ACH module
Encrypted signatures
Encrypt payment batches prior to printing for additional in-house file security
In-depth audit reporting tracks all movements carried out within the software Certichex Pro
Certichex Pro
Certichex Premier Pro offers a comprehensive secure check writing software package that complements your accounts payable program, combined with the quality and outstanding customer service you have come to expect from Certex.
---
Flexibility
Design and personalize custom checks using company and bank logos
Edit and change information easily
Print checks drawn on different accounts in the same batch
Print unlimited voucher detail information
Increase productivity
Print bank information, MICR line, protected amount, and signatures in one process
Eliminate hand-feeding, decollating, signing, and bursting continuous form checks
---
Multi-level Security
Print checks on standard or customized safety paper
Eliminate the need to physically secure blank checks and authorized signatures
Access software program with authorized user password
Prevent unauthorized usage of software using USB Key and optional magnetic security card
Establish dollar amount thresholds on checks
Reduce waste and expense
Eliminate the cost of preprinting institution and bank information
Save paper by printing voucher details on regular laser paper
---
Broad Compatibility
Utilizes Windows®-based software technology and MICR printing
Certichex 32 is compatible with Windows 2000 and XP
Can be configured for most MICR laser printers
Supports multi-currency and international check formats
Compatible with most accounting programs
Ideal for network environments