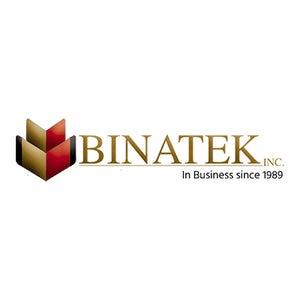 Binatek InterLaser 9
Product Description
The InterLaser 9 Document Management Solution is an interface application that provides the ability to produce and electronically sign cheques from a blank, coloured, perforated cheque paper stock. It also provides the ability to produce different forms, such as invoices & statements, from plain white paper stock. Many other Modules are also available to provide you with a complete document Solution.
The InterLaser 9 Solution streamlines the entire cheque production process by automating many of the steps required with impact printer solutions. Even though blank cheque paper stock is used, cheques with a professional image are created in a single pass on a M.I.C.R. laser printer. The InterLaser 9 Solution handles signatures, logos, M.I.C.R. fonts, company & banking information, the cheque stub portion, Full Page Stub Overflow, duplicate copies and redirection of duplicate copies.
By using current high-speed laser printers in conjunction with the InterLaser 9 Solution, laser cheque production is completed in less time with fewer people. 
Product Features
Unlimited personalized forms
Graphical environment that let's you move objects such as logos, boxes and rounded boxes, ellipses, text, rotated text, lines, etc…
Manage overflow
Multiple printers you can define to print documents
Duplex printing
Report, if required, after the print of documents
Export the data to an Excel file or Xml file
Audit report (printing)
Capabilities of sending e-mail
Produce JPG, PDF or TIFF document image
Archive to keep your data for consulting
Automatic processing (Background printing)
Portrait or landscape printing on either letter or legal paper
Password management (security)
SmartCard technologies to be able to start printing (security)